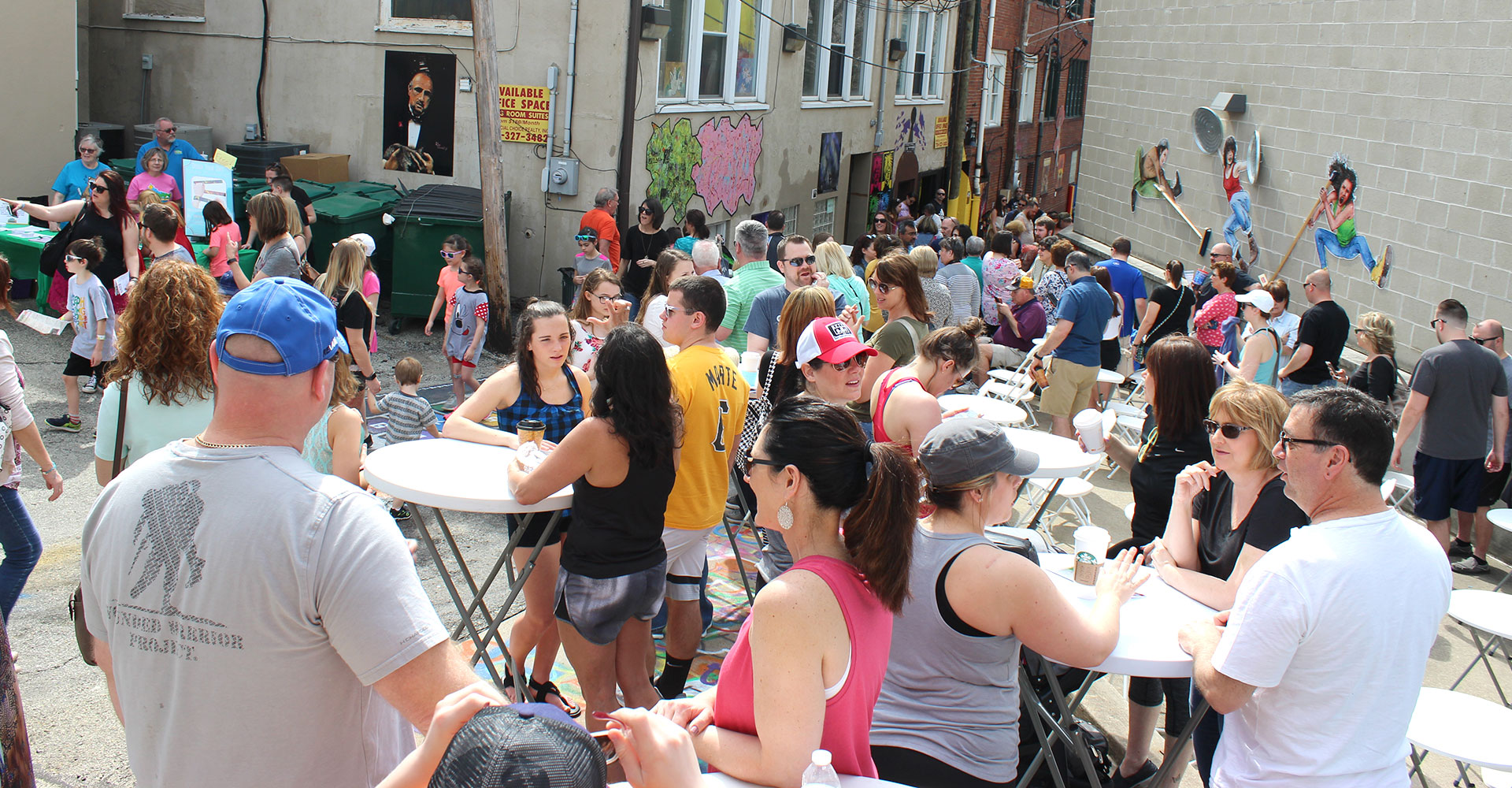 Westmoreland Cultural Trust
Incubator for the Arts and Art in the Alley
Wilcox Way - between The Palace Theatre S&T Bank Courtyard & The Union Trust Building on Main Street
Westmoreland Cultural Trust is a 501(c)3 nonprofit organization whose mission is to stimulate cultural and economic development in the Westmoreland County region, promote the performing arts and preserve and enhance our region's assets for the benefit of the community.
Incubator for the Arts WCT's Incubator for the ARTS is a place for creative collaboration with other artists. The spaces provides short-term affordable leases to local artists where they can create and establish themselves within the community.
Art in the Alley The initiative includes vibrant colors and original works by Incubator for the Arts and local artists installed and featured on the alley side of the Union Trust Building facing The Palace Theatre's S&T Bank Courtyard. The project creates an additional destination spot in Greensburg, improves and enhances the artistic climate of the community, and adds color to the local landscape in the growing downtown cultural district, all the while giving local artists exposure and a new audience for their work.
ArtsWalk Events
at Westmoreland Cultural Trust
Have a seat in the tented Helman-Ghrist lot, and enjoy a bite from Elegant Catering's food truck, Barry's Italian Ice or a beverage in WCT's Art Brew Bar to support the event. Community vendors to include Downtown Greensburg Project, Westmoreland Arts & Heritage Festival, Greensburg Art Center, Greensburg - Salem High School Visual Art students, Miss Gabi's Art for Good Studio will be on-site with projects and activities for the family. Face-painting and interactive public art will also add to the day's creations.
10:55 am

WELCOME & KICK-OFF

with Kelli Brisbane and Malinda Sherid

11 am

STAGE RIGHT! SENSATIONS PERFORMANCE

Art in the Alley

11 am - 6 pm

FOOD & BEVERAGES

ELEGANT CATERING FOOD TRUCK
BARRY'S ITALIAN ICE
ART BREW BAR - beer, wine, soda, & water


11 am - 6 pm

WESTMORELAND ARTS & HERITAGE FRESTIVAL

Children's Activity Helman-Ghrist Lot

11 am - 6 pm

FACEPAINTING by CELESTE

Helman-Ghrist Lot

11 am - 6 pm

GREENSBURG ART CENTER

Printmaking on Cloth Bags for Kids Helman-Ghrist Lot

11 am - 6 pm

GREENSBURG SALEM HIGH SCHOOL ART HONOR SOCIETY

Art ROCKS & Scrap Painting Helman-Ghrist Lot

11 am - 6 pm

MISS GABI'S ART IS GOOD STUDIO

Activity TBD Helman-Ghrist Lot

11 am - 6 pm

LIVE PAINTING WITH RAIN MCCOY

Watch local community college student Rain McCoy create her work of art live during the event.

11 am - 6 pm

BLACKBURN CENTER

Activity TBD Helman-Ghrist Lot

11 am - 6 pm

DOWNTOWN GREENSBURG PROJECT ACTIVITY

Activity TBD Helman-Ghrist Lot

11 am - 6 pm

DIPALI RABADIYA - ARTIST

oil painting demo and artist booth Helman-Ghrist Lot

11 am - 6 pm

RIVER ART WORKS

11 am - 6 pm

VOICE OF WESTMORELAND

kid's craft Helman-Ghrist Lot

11 am - 6 pm

YOU ARE HERE

art booth

11 am - 6 pm

PAINTING WITH A TWIST

11:30 am

AUBREY BURCHELL

Loading Dock Stage

12 pm - 2 pm

INSIDE THE ARTIST'S STUDIO

Westmoreland Cultural Trust's Incubator for the Arts 102 N Main St Sean Blair - Studio 208 Sheila Cuellar-Shaffer - Studio 222 Patrick Mahoney - Studio 242 Sarah Hunter & Stacey Pydynkowski - Studio 204 & 206 Bradley Weyandt - Studio 210 108 N Main St Marc Snyder - Studio C

1 pm

SCHOOL OF ROCK WEXFORD HOUSE BAND

Loading Dock Stage

1 pm - 5 pm

RAY KUCHINKA CARICATURES

1:30 pm

FITNESS ENVI

2 pm

ANTOLENA

3 pm - 5 pm

INSIDE THE ARTIST'S STUDIO

Westmoreland Cultural Trust's Incubator for the Arts 102 N Main St Sean Blair - Studio 208 Sheila Cuellar-Shaffer - Studio 222 Patrick Mahoney - Studio 242 Sarah Hunter & Stacey Pydynkowski - Studio 204 & 206 Moira Richardson - Studio 224 41 W Otterman St Marti Haykin - Studio D

3 pm

LEA RAE & CC PETRUSH

Loading Dock Stage

3:30 pm

TUPELO & NOAH

Loading Dock Stage

4 pm

SAFETY LAST

Loading Dock Stage

4:30 pm

JANIE WILCOX & CAMERON TAYLOR

5 pm

ART IN THE ALLEY GUIDED TOUR

with Kelli Brisbane and Malinda Sherid

7:30 pm

WESTMORELAND SYMPHONY ORCHESTRA

Carmina Burana The Palace Theatre Featuring the WSO Chamber Singers, Westmoreland Choral Society, University of Pittsburgh Choir, Seton Hill University Choir, Children's Choirs, and Soloists from the Pittsburgh Opera

Ticket purchase required
Blue Sky Sign Co. | Hampton by Hilton Greensburg | Hefren-Tillotson, Inc. McDowell Associates | Milanscape | PWA Wealth Management